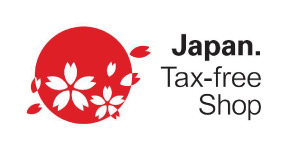 Fashion, Food and Souvenir. Enjoy JAPAN!
Tax-free procedures and currency exchange are handled at the gift certificate counter on floor 8 of the New Building.

Free Wi-fi is available on the following floors.
Main Building: floors B1, 2, 3, and 4
New Building: floors 2, 3, and 4
SSID:Izutsuya_Free_Wi-Fi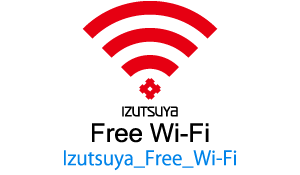 * Free Wi-Fi can be used for up to 2 hours per connection.
There is no limit to the number times you can connect per day (although you can only connect during business hours).
* After 2 hours of use, you will need to agree to the terms of use again.

January 17th (Thurs.)

–21st (Mon.) Winter Fashion Sale
January 23rd (Wed.)

–24th (Thurs.) Food Gift Set Clearance Sale (sets broken up and items sold individually)
January 26th (Sat.)

–February 14th (Thurs.) Specialty Chocolate Fair

Izutsuya Department Store, Kokura Location
1-1 Senba-machi, Kokurakita-ku
Kitakyushu 802-8511
093-522-3111 (main switchboard)
Hours: 10:00 a.m.–7:00 p.m.
*Open until 8:00 PM on Fridays and Saturdays.

9F New Building

Pastel Hall


8F New Building

Restaurant Area (Gourmet Square) / General Service Center / JTB Kyushu / Play Guide (Ticket Agency) / Gift Vouchers



7F New Building

Kimonos / Japanese Accessories / Ladies Wear (for Mrs.') / Arts and Crafts / Gallery / Nursing Care Goods


6F New Building

Golf / Sports Goods / Jewelry / Watches / Eyewear Salon


5F New Building

Men's Wear Adams Walk


4F New Building

Ladies' Wear Designers & Creators


3F New Building

Ladies' Wear Venus Walk


2F New Building

Ladies' Wear Venus Walk


1F New Building

Ladies' Wear Venus Walk / Imported Boutique


B1F New Building

Parking / Bus Terminal for Complimentary Service to Otemachi Parking

9F Main Building

Esthetic and Nail Salon "Socié" / Restaurants / Kids' Play Area (Glada Barn) / Rose Shop / Rose Garden


8F Main Building

Restaurant Area (Gourmet Square) / Promotional Area / Fashion Mart


7F Main Building

Babies & Children's Wear / Stationery / Toys / Electric Household Appliances / Bridal Salon / Furniture / House renovation


6F Main Building

Japanese & Western Ceramics / Interior Goods / Bedding / Kitchen Goods / Gift Salon / Towels


5F Main Building

Men's Wear / Men's Apparel / Men's Underwear / Men's Shoes / Men's Bags / Travel Goods / L-sized Men's


4F Main Building

Ladies' Wear / L-sized Ladies' Wear / Lingerie


3F Main Building

Ladies' Wear / S-sized Ladies' Wear / Ladies' Formal Wear Salon
for Ladies


2F Main Building

Imported Boutique / Ladies' Shoes / Ladies' Handbags and Wallets / Dental clinic


1F Main Building

Imported Boutique / Ladies' General Merchandise / Accessories / Cosmetics / Bus Terminal for Complimentary Service to Bashaku Parking


B1F Main Building

Bishokukan (food)


Service Station

Automatic Ticket Machine

In-store Point Machine

Refrigerator Locker

Baby Play Area

Baby Chair / Baby seat

Powder Room

Coin-operated Locker

Rest Area

Cloakroom

Restrooms

Restrooms for Ladies

Wheelchair Access Restrooms

Smoking Area
Public Phone

Store Information

Tobacco Vending Machine

Juice Vending Machine

Cell-phone Charge Service(Paid)

Cafe

Free Wi-Fi

Parking Lot

Bus Terminal